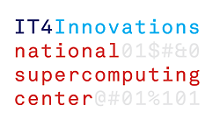 IT4Innovations National Supercomputing Center provides state-of-the-art technologies and services in the field of High Performance Computing (HPC) and makes it available for Czech and international research teams from academia and industry.
IT4Innovations currently operates two supercomputers, Anselm (94TFLOPS, installed in summer 2013) and Salomon (2PFLOPS, installed in summer 2015). Besides operating the infrastructure and offering its resources, IT4Innovations provides regular training for the HPC community and offers MSc and PhD studies in the field of HPC.
IT4Innovations is part of the National Roadmap for Large Infrastructures prepared by the Ministry of Education, Youth and Sports of the Czech Republic, as one of the three large e-infrastructures in the country. The center is also a member of the European Technology Platform for High Performance Computing (ETP4HPC) and the Partnership for Advanced Computing in Europe (PRACE) where IT4Innovations represents the Czech Republic.
Besides being the large infrastructure, IT4Innovations is also R&D center with strong international links. The center currently participates in dozens of international project, mostly FP7 and H2020 with top academic and industrial partners. IT4Innovations is also the only Intel Parallel Computing Center (IPCC) in new member states of the European Union. Its research activities are distributed into 5 laboratories:
Parallel algorithms research lab
Advanced data analysis and simulations lab
Modelling for nanotechnologies lab
Big data analysis lab
Infrastructure research lab