The stories of Czech firms Wikov Industry and VÚTS Liberec show that traditional sector specialisations continue to have worth thanks to research and development
Nearly everyone in the Czech Republic knows the name Otto Wichterle, whose inventions and improvements – especially soft contact lenses, preparation of hydrogels and silon fibre – are synonymous with good ideas put into practice; for example, Wichterle originally cast contact lenses on an apparatus made out of a children's Merkur metal construction kit! Today, the famous macromolecular chemist's grandson, Martin Wichterle (52), focuses on metals. His firm, Wikov Industry, is successful in the field of mechanical engineering and is a leading manufacturer of industrial gearboxes.
Immediately after the revolutionary year of 1989, when Otto Wichterle became the first post-totalitarian chairman of the Academy of Sciences of the Czech Republic, Martin completed his geology studies and, together with his friends, he founded the geological company KAP, which prospered. Among other things, the company carried out surveys for finding water and audits of land plots for investors who needed to know the condition of sites when purchasing them. Young Wichterle and his partners sold the firm in 2002, reportedly for hundreds of millions of crowns. At that time, he purchased the ČKD Technical laboratories subsidiary of the once famous ČKD Holding brand from the settlement administrator of the latter. And along with the laboratories, the administrator tentatively threw in its engineering production branch in Hronov in East Bohemia…
And it worked out. But the company, which had engaged in top-level engineering production, was in woeful condition and Wichterle first had to invest a lot – mainly in machinery and research.
"There are really very few truly Czech firms, meaning those that have their own development, products and brand, in the mechanical-engineering sector, for example. An unbelievably small number in comparison with how many were here a few decades ago. In my opinion, the country needs at least a little industry, real Czech brands. For the Czech Republic, it is critically important to have some of its own sectors, industry in this case, where value added is concentrated," Martin Wichterle told the business weekly Euro a few years ago. In 2004, he expanded his mechanical-engineering portfolio when he purchased Škoda Gear, a gearbox manufacturer in Plzeň.
Wichterle would have had to pay quite a lot of money for sublicenses of established brands (ČKD and Škoda), so he decided on a different direction. He revived the old family industrial brand Wikov, which during the First Republic was a manufacturer of luxury cars and farm equipment – the firm was established by Lambert and Karel Wichterle together with entrepreneur František Kovařík. Hence Wikov.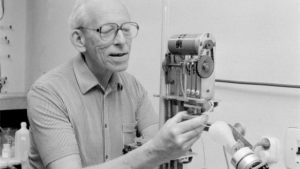 Otto Wichterle, father of the soft-contact lens
For oil platforms and power plants
In 2005, ČKD Hronov thus changed its name to Wikov MGI and Škoda Gear became Wikov Gear, and both firms were incorporated into the parent company Wikov Industry, to which the English design office Orbital 2 was also added. Wikov Wind planned to produce dozens of wind-power plants, though of course the global recession put a damper on those plans. "Gearbox manufacturing is still the biggest part of our business," Wichterle stated in the business magazine Euro, referring to contracts that also included deliveries of gearboxes for oil-platform hoists in the South China Sea. Only a few firms are able to develop and manufacture such complicated mechanisms, and one of them is purely Czech. The Wikov group has three foreign offices: in North America, China and Russia.
The year before last, Wikov had revenues of more than CZK 2 billion. The company is currently successful in the area of gearboxes for rail vehicles. But that could not have been the case without the company's own development of, among other things, epicyclic gearboxes with flexible pin technology, for which Orbital 2 is responsible. "In addition to the very rapid prototyping of gearboxes, we are able to offer complete drive assemblies for rail vehicles operated in extremely cold conditions," boasts Wikov, the global leader in the sector. Other gears and gearboxes from Wikov are used in earthmoving equipment, huge excavators, heavy mining vehicles, underground mining combine heads and conveyor belts, as well as in power-plant gas-steam turbines and limestone grinding mills.
Wichterle, heir to the family engineering-scientific tradition, is newly focusing on glassmaking, having acquired the firm Bomma and the Rückl Crystal glassworks in Nižbor, which had fallen into insolvency. Wichterle also wants to revive the brand. "I did not anticipate that not only Czech glass, but also Czech glass designers have such a good reputation in the world," he told the daily Mladá fronta DNES last year. He intends to again invest in development and, among other things, in flat grinding technology. Of course, one of the wealthiest Czechs has not forgotten about mechanical-engineering: other companies involved in the automotive industry have joined the group.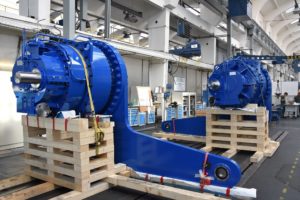 Wikov roller press planetary gearboxes
Textile engineering in Liberec
In October 2014 Miroslav Václavík, general manager of the company VÚTS Liberec, had laid out on a table a newspaper containing a story about the most famous Czech inventions: Wichterle's contact lenses, Kaplan's turbine and Antonín Holý's anti-HIV drugs. But he noticed something was missing. "And that was the revolutionary jet loom, which enables weaving with the use of air and water and which conquered the whole world. It was designed by Vladimír Svatý, my first boss at the Research Institute of Textile Machines," Professor Václavík told Lidové noviny.
"According to statistics, 25,000 air-jet looms and 22,000 water-jet looms are manufactured in the world every year. Multiply that by fifty years since the jet loom was invented. That's millions of machines! Now tell me which other Czech inventor is so successful," said the head of the company, which is wagering on research, development and production of machines for the manufacturing industry – primarily in the areas of machining, textiles, polygraphy, food, packaging and medical technology. VÚTS is also involved in automation, development and design of special single-purpose machines, handling machines, transporters and testing equipment for suppliers for the automotive industry, which is a key sector for the Czech Republic.
This private firm, which is building on the know-how of a research institute established in 1951, has received significant support for its work from European Union structural funds. At a cost of CZK 740 million, the company built its Centre of Engineering Research and Development in Liberec, not far from the German border. The centre is focused not only on designing textile machinery, but also on development of machines for the manufacturing industry, specialised measuring and mechatronics, as well as new materials and reduction of machines' energy consumption, noise and vibration.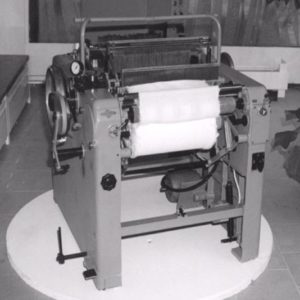 P45 – the first air-jet weaving machine in the world
With new high-tech equipment
After November 1989, a joint-stock company arose from an original textile research facility. "It fell to me to be its director. I had previously been quite a successful researcher, I enjoyed research, but I had to learn how to manage a firm," said Václavík, recalling the firm's origins, when he gained contracts in Taiwan and the United States. Today it is a family firm with turnover in hundreds of millions of crowns.
Researchers prepare industrial solutions from sketches to prototypes; VÚTS historically holds 700 patents and annually submits roughly five to ten new ones. The company manufactures Vera (for weaving fabrics in plain weave) and Camel (for leno weave) textile machines for export. Since last year, the company has also been focused on design and development of 3D textile looms. In Liberec, they newly have a unique high-speed camera with the possibility of capturing up to a million images per second, a laser application centre and an anechoic chamber. And they are prepared for contract research, as they demonstrate at trade fairs.
"It's not only about whether you have hardware and software; you can buy both. You mainly need manware, i.e. qualified people. And those are expensive. I tell large firms: it won't pay off for you to keep these people, use them only two or three times a year and then they'll still be experts? That's what we're here for, engineering and research firms that prepare everything from project to prototype," says Director Václavík, who has ties to the Fraunhofer Institute in neighbouring Germany. The company's list of references also includes the companies Continental, Contipro, Brano Group, Junker, Lasvit, Linet, Philips and Preciosa, as well as academic partners such as the Czech Technical University in Prague, whose engineering faculty is still the main Czech cradle of sector specialists, and technical universities in Dresden and Chemnitz and RWTH Aachen.
Author: Martin Rychlík